When Davao City Mayor Rodrigo Duterte, also known as 'The Punisher' of Davao City, finally announced that he has closed his doors to presidency, a lot of netizens had their hearts broken. Some even go as far as calling him 'the best president we never had'.
Is he?
Let's start with the basis of the notion first. Most Filipinos, especially the middle-class and our hardworking kababayans abroad, are fed up with the government. They are fed up with transportation inefficiency, astonishingly high tax rates, corruption and graft cases allegedly committed in top-to-bottom rungs of the government, flood projects and traffic schemes that are seem to be going nowhere (ironically), nepotism, high rates of crime, uncontrolled boom of population, poor urban planning schemes, strife in underdeveloped parts of Mindanao, and most importantly, the slowest internet connection in Southeast Asia.
I can understand the public clamor of Duterte running. Unlike most public officials, his experience and political will has concrete evidence. Like how the late DILG Secretary Jessie Robredo changed Naga City and how the former MMDA Chief Bayani Fernado transformed Marikina City, Davao City has Duterte. Let's take a look at Davao City and its humble yet tumultuous beginning.
Davao town in 1930s
Like the major cities Manila and Cebu, Davao was heavily affected by World War II but recovered eventually. In 1967, it was recognized as the second largest city in the Philippines and many people from the neighboring regions settled there, making it an ethnic melting pot. By 1970, it became the regional capital of Southern Mindanao and eventually the regional capital of Davao Region. The highly-urbanized city became a home for people of various faith: Christians, Muslims and the Lumad tribes (natives of Mindanao) 
But in 1980s, the city plunged into a crisis. It is caught in the middle in the conflict between criminals, communist rebels and leftists. Murders in the street became a norm. A story my aunt shared is that, as a little girl in Davao, people carrying guns and arms while buying bread or walking down the streets are a common sight. She remembered that her family used to bring food outside the house and if they did not, some men with guns would knock on their doors to demand why they didn't give their share for the 'revolution.' As Luzon and Metro Manila is busy struggling to restore democracy during the Martial Law, Davao has its own war within. 
Because the capital has its own conflict, locals of Davao decided to take the matter into their hands. Civilians form vigilante groups such as 'Alsa Masa' (People's Rise) to drive out criminals and rebels. There was no day without someone killed. It earned the nickname, the country's murder capital. 
When Rodrigo Duterte assumed office on 1988, it took a tremendous effort and drastic measures in his part to make the city livable again. In his tenure, strict laws are implemented. A curfew on minors is enforced. Bars and Disco are ordered not to sell alcohols by 1AM. Smoking policies are enforced in public areas. Motorcyclists without helmets and defective lights are not allowed to go to the city. Once when I came to Davao, the shuttle van we are riding stopped at a checkpoint before entering the city. I thought the officer would just poke his head inside, check the bottom of the car, and signal us to move, just like in shopping malls or subdivisions in Manila. No, he made ALL the passengers alight the vehicle so he can conduct a thorough search inside. Before we climbed again, he checked our bags. Guns are definitely not allowed in the city. 
And if you're a drug addict, drug pusher or a drug lord in Davao City, you might as well leave a will or a suicide note behind because the Davao Death Squad will be knocking on your doors anyday. No due process of law. No time to say goodbye to your friends and family. It remains inconclusive whether Duterte is connected the DDS or he has nothing to do with it but the vigilante group acts as the present-form of Alsa Masa, this time battling crimes and drugs in the city. 
(To be fair, Duterte ordered the establishment of Drugs Rehabilitation Center for the Youth in Davao City.) 
Present-day Davao
Take note, social stability in Davao wasn't restored in a single day, technically, in a single term. Of course, many initially refused to live with it. Many defied the city's laws. Many accused Duterte for nonchalantly dismissing human rights just like that. He had to stay in power for more than a decade to give birth to the Davao now. Anyone who can't stomach his leadership are either forced to flee out of the city or laid buried somewhere.
Are you prepared to live with this? No smoking in public areas. Liquor ban after midnight.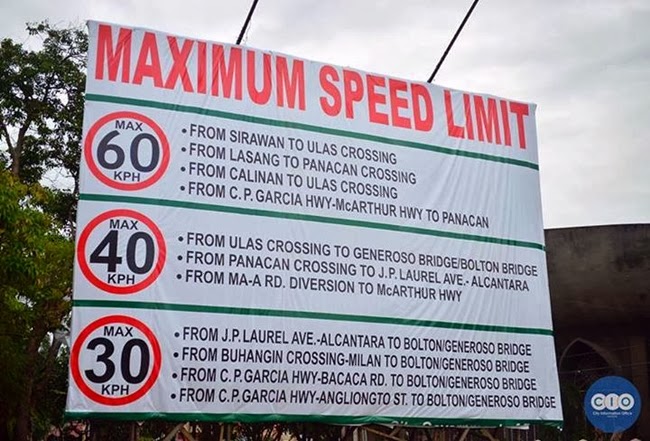 How about this in major roads and highways?
Many Duterte supporters like to apply his leadership in a national level. As I said before, we are fed up with government not doing anything. But did many of you ever stop and think this: It took more than two decades, more or less, for a no-nonsense, mercenary-like Duterte to change Davao and its image. For a country of 7,107 islands and more than 100 million people, can you imagine how long it will take for the whole Philippines to follow Davao's stead?
And given how the Filipinos often complain about anything, how they insist and push the candidates they like to run and then after a short while (maximum of two years),  they felt that this person is not doing enough and they would now raise the cry for this person to resign. If Duterte does run, Filipinos have big expectations around him. If he gets elected, he will overthrow the present system and build a revolutionary government. He will change the Constitution. Goodbye, Centralism. Hello, Federalism. It will take an awful lot of work and time for the people to accept and adapt by it. And I'm not even talking about the laws and regulations we all have to live with yet.
SIDENOTE: In Marikina City, when Bayan Fernando was the mayor, people were fined and had to be part of community service when they are caught throwing candy litters on the street. Many were outraged and thought it as OA. But BF has to do it and grudgingly, Marikenos accpted it and lived with this. Now, we are known for being one of the most disciplined cities in Metro Manila. This didn't happen overnight. 
I understand his reason for not running. He's too old. All he wants is to enjoy the results of his work in the city. Let him. For those people stamping him as selfish, using Heneral Luna's 'Bayan o Sarili' lines to taunt him, you're not doing any much good. Please, just please, respect this man's decision. If you want to make this bayan good, start with your sarili. 
If Duterte intends to change the system fast, to be compressed within the six years of his time or before he dies, and given the 'Let the government do all the work' mindset that we have, it will be like Martial Law once again. And admittedly, I would oppose that. Due process of law is a basic human right. It raises a disturbing and sad rhetoric that in order for all the Filipinos to get their, pardon the expletive, shit together, the authority must strike fear on their hearts. No, we, as a people, are capable of more than that.
We have to develop a critical mindset of what we need as a country. If presidents are assessed and are subject of critiques, why not ourselves too? If someone like Duterte is elected in national office, do we have the capacity to accept and cooperate with his style of leadership?
And in my opinion, given the present maturity that we have, most of us will not be able to. It will be messy, it will be bloody. We still have a long way to go. Before then, we have to evolve as a people. Understand that governance is a collaborative act and it needs your participation, cooperation and constructive feedback. It's not a play that should satisfy you while you're just there watching and doing nothing.
Hopefully, by then, we can finally choose the leader that we don't only want, but the leader we need.
Are you sure you're ready for this?